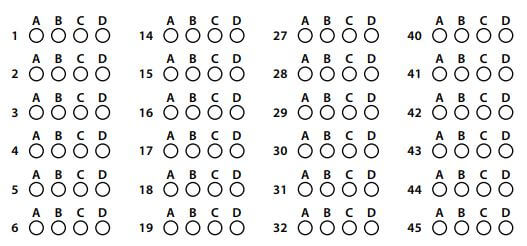 Believe it or not, how you bubble can have a big impact on your score. Here's the best way to bubble the SAT.
My students often jump up 20-50 points just with a better bubbling strategy – one that saves both time AND brain cells.
When you bubble on the SAT after every answer you are wasting time by transferring your attention to the bubble sheet and then back to the test. You are also wasting brain cells by having to find your place in test and re-engage with the content.
It's much more efficient to bubble the spread – answer all the questions in front of you and then bubble them all in together before your turn the page.
Bubble like this: FIRST answer all of the questions in front of you. THEN bubble them in all together before you turn the page.
And I've got a trick to make it faster to bubble in all the answers at once.
1. Write your answer in the left column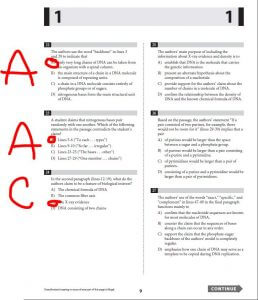 After you circle your answer, write the letter to the left of the question.
That way, you can easily scan down the page with your eyes and see which letters you need to bubble in.
2. Bubble the spread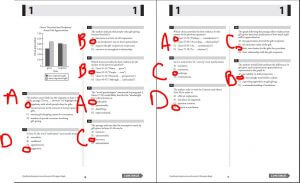 Don't bubble in your answer after every question. That wastes too much time and pulls your head out of the zone.
Instead, answer all the questions on the page (or pages) in front of you. Before you turn the page, bubble in all the answers on that page or those pages.
(See why it's helpful to write the letters so big? I can usually bubble in three answers at a time.)
When I skip a question, I circle the number of the question (in case I have time at the end to go back to it, it makes it easier to find on the page.)
3. Guess "A" for questions you don't know how to answer
Circle the question number in your booklet so it's easy to find and you can come back to it if you have time.
In the meantime, mark it as A on your answer sheet. (Here's why you should always guess "A" when you don't know the right answer, can't eliminate any other answers, and need to take a wild guess.)
4. After the 5 min warning, bubble in after every question
After the 5 min warning, switch back to bubbling in after every question.
Want weekly test tips and strategies?
Subscribe to get my latest content by email.