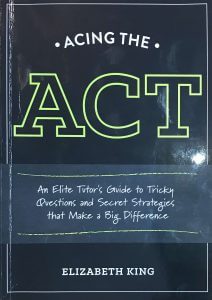 What it is
Acing the ACT
is a short book written by Elizabeth King. It's focused on how to deal with the tricky questions and traps on the ACT. It doesn't focus on all the skills that you need – assuming that students have the basics covered. The subtitle is really accurate: a guide to the tricky questions and secret strategies that make a big difference.
What it covers
It covers information about all four sections of the test. It focuses primarily on those sneaky traps and tricks that most students don't even see and it shows them how to spot and handle them. Elizabeth gives examples for each strategy so you can see it working in context.
Who it's for
Advanced students who are already getting good scores and want to turn them into outstanding scores.
Best tip: keep a detailed error log
She's got a lot of great suggestions – how to handle weighted averages, why the word "these" is especially important in adding new sentences in the reading section, how the science section uses graphs that work against your intuition.
But my favorite tip is one that I use with my students: keep a detailed error log.
[clickToTweet tweet="'The path to your top ACT (and SAT) score is buried under your personal patterns and habits.' via @elizabethonline " quote="The path to your top score is buried under your personal patterns and habits. "]
When I ask most kids what they missed on the ACT they usually tell me how many questions they missed – not the content of the questions they missed. Some kids can tell me WHAT they missed – "a parabola question" or "a modifier question." And some kids can even tell me WHY they missed it. But few kids can tell me their new strategy that will prevent them from making that mistake in the first place.
How to take notes
Elizabeth demonstrates exactly how to keep a detailed error log AND how to use it to spot and fix your weaknesses.
She gives examples of the sort of notes most kids take and the the sort of notes they SHOULD be taking.
She gives the example of the typical student note: "Don't use decimals."
Elizabeth suggests instead, "Look for fraction problems that could involve cancelling, especially when pi is involved. Don't switch to decimals. Keep fractions and cancel when possible on an estimation problem."
Code your errors
Elizabeth recommends that you code your errors in one of three ways:
M for Memorization – You need to memorize a formula or a rule
T for Tricky  – You got confused by the question
E for Human Error – You made a "silly" mistake
Grab my ACT error tracking worksheet
Track your errors to identify your weaknesses, create new strategies, and improve your scores.
The author
Elizabeth is a long-time tutor of both the SAT and the ACT. Her tips are based on her long experience working with kids through each test. She knows what kids are prone to do, where they are likely to fall into traps, and she focuses her advice on training kids how to see and avoid the traps.
Highly recommended!
Want weekly test tips and strategies?
Subscribe to get my latest content by email.