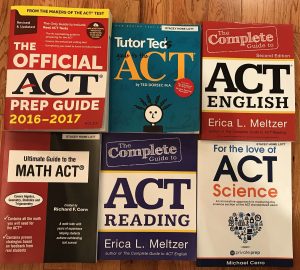 I talk to a lot of parents that want to help their kids study for the ACT, but aren't sure what to use. Here are my favorite resources that EVERYONE should use (whether you are studying on your own, taking a class, or working with a tutor.)
Use the real thing
This is the only source of official ACT prep material. You can purchase the book from Amazon. It has six complete tests. (You can also download a free practice test from the ACT's website.)
Overall Guides to the ACT
Mike Barrett is another long-time tutor. He throughly reviews test prep strategy and how to tackle all the different question types. He also provides much better answer explantions to the tests in the Official ACT Prep Guide published by the ACT folks. I've gotten rave reviews on this book from many parents.
ACT English
I've been a fan of Erica Meltzer for years: I used her very first edition of her SAT grammar book way back in 2011. Her ACT materials are equally as wonderful. This book covers all the grammar that you will encounter on the test. AND she knows exactly how it is tested  – for example the ACT tests whom as the direct object of a preposition but not as the direct object of a verb. Which means you'll only be working on things that will absolutely show up on your next ACT test.
She provides extensive explanations and examples of each grammar rule with practice questions and cumulative reviews.
I can't praise this book highly enough! None of my American students know grammar and this book gives them the skills that they need to raise their ACT English scores.
ACT Math
My students will often get tripped up by specific topics on the ACT. What are those exponent rules again? Logarithms? Matrices? Richard covers each topic clearly and concisely. He explains the rules, how they work in context, and then he gives you 15 questions (with answer explanations) to practice what you've learned.
ACT Reading
Another wonderful book by Erica Meltzer. She covers exactly how to handle each question type with extensive examples. She shows you how and why the right answer is all-the-way right and why the other answer choices are almost-but-not-quite-right. Students immediately start seeing why wrong answers are wrong (which makes finding the right answer so much easier!)
ACT Science
My absolute favorite book for this section is For the Love of ACT Science written Michael Cerro. Michael is a tutor and it shows – he breaks down question types, teaches you how to handle each one, and then gradually increases the complexity and variety of the questions, until you are practicing on something that feels a lot like a real ACT Science section. He also has a specific chapter on how to handle the conflicting viewpoints passage.
*Note: These links are referral links. If you click through and purchase something, I may receive a small commission at no additional cost to you. I am a participant in the Amazon Services LLC Associates Program, an affiliate advertising program designed to provide a means for sites to earn advertising fees by advertising and linking to Amazon.com.
Want weekly test tips and strategies?
Subscribe to get my latest content by email.