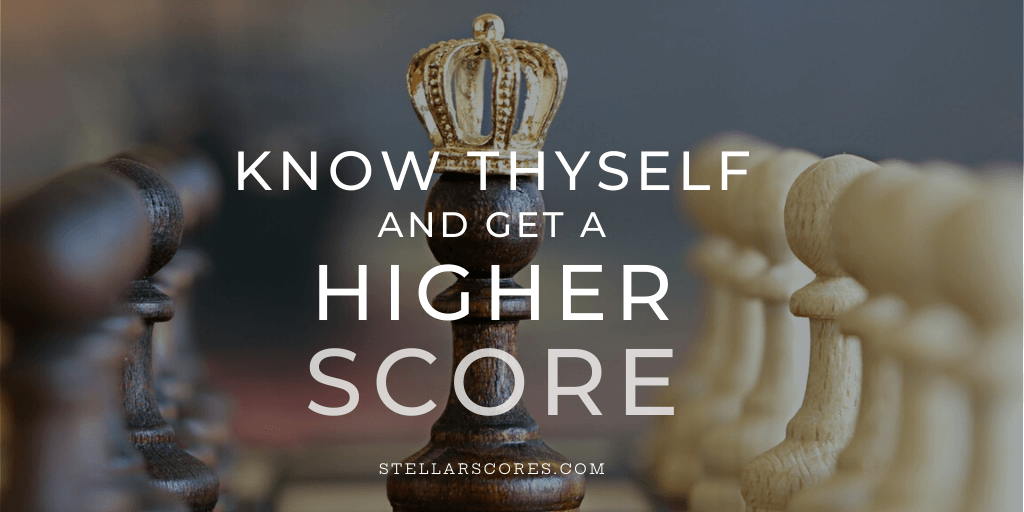 To get a better SAT or ACT score, it's not enough to know the content. (Though that is a huge job in and of itself!) In addition to knowing the rules for pronoun antecedents, math formulas and reading inferences, you ALSO need to know yourself as well as you know the subject matter.
Knowing YOURSELF is just as important as knowing the subject matter on the ACT and SAT.
Here's why – it doesn't matter if you know the rules if you screw it up every time.
  …
I screw up the slope formula
I know the formula for finding the slope of a line. It's the rise over the run. But EVERY SINGLE TIME, I always write it backwards. Even when I know that I do this and try not to, I STILL screw it up.
 …
But I don't lose the point
But I don't miss these questions. Because, even though I always write down the formula backwards,  I KNOW that I will do this and I spend twice as long on the slope questions as I do on the other questions making sure I've written it correctly. I make up for this by flying through the other "tricky", hard problems – functions, fractional exponents, and probability aren't tricky for me.
   …
So by knowing myself, and spending MORE time on the questions that are harder for me (even though they aren't necessarily hard problems), and less time on the questions that are easy for me, I'm able to use my time wisely and maximize my points.
   …
Some kids should NEVER use a calculator
This plays out for my students as well. I had one student who ALWAYS stopped thinking when she grabbed her calculator – she would just start punching in numbers, have no idea what the number on the calculator meant, didn't know what to do next, and couldn't find the right answer. Knowing this we came up with the strategy that she should write it out on paper first – take the number of total feet and divide by the number of steps to find the number of feet per step – and then use the calculator to do the math part.
   …
Some kids should ALWAYS use a calculator
Another student kept messing up simple math. She'd panic in the context of the test and couldn't remember what 3×4 was. So she was missing a lot of problems and taking way too much time trying to solve them. For her, we came up with the tactic to ALWAYS use her calculator for every single calculation.
   …
In both cases, even though they used opposite strategies, their scores jumped up.
   …
What's YOUR custom strategy?
Want weekly test tips and strategies?
Subscribe to get my latest content by email.