Yay – The College Board now posts explanations for all the SAT Practice Tests. (The actually did this for the old test as well, but they didn't publicize it well it so no one knew about it.) So high five to them for doing it better this time around.
However, many of the explanations aren't helpful. (And this isn't a new problem for them.)
Who writes these things? And have they ever met a teenager?
 When explanations=obsfuscation
Let me show you what I mean. Here's a math problem from Test 1, Section 3.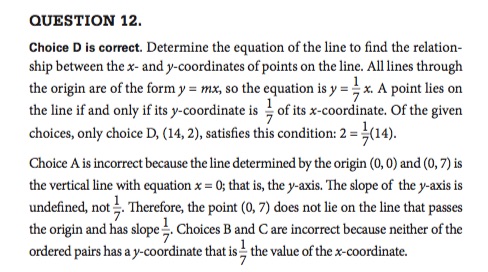 Who writes these things?
Why would you write a paragraph of text instead of showing a worked out solution to a math problem?
Why do they only give you one way to solve the problem?
Why don't they include any test taking strategic short cuts?
Putting the explain back into explanations
Most of my kids don't think to use the equation of a line formula on this question. And they don't know off the top of their heads that lines through the origin are y=mx. And they don't know how to immediately figure out what a line with a slope of 1/7 looks like.
So I wrote a better explanation. (In fact, I created a written or video explanation for all 464 math questions on the current 8 practice tests.)
I teach them to draw a picture to visualize the problem
I show them a trick to quickly estimate the slope of any line
I show them 3 alternative ways to solve the problem
I remind them that these strategies apply to multiple problems
 Here's portion of my explanation.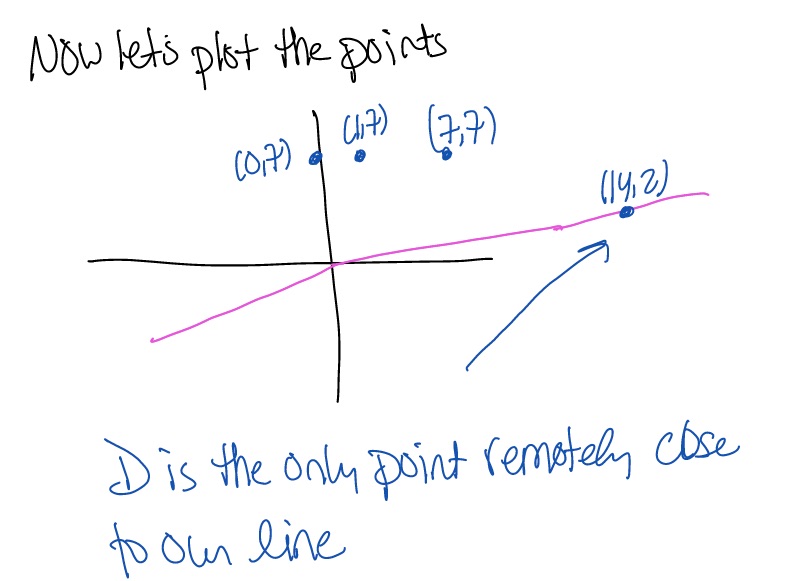 My explanations are making sense
I'm coming out of my first beta round with 20 students. I've created 308 written explanations and 172 video explanations so far. (Only 448 more to go!)
Here's some of the feedback:
Your solutions are far and away beyond what the College Board offers. Those do not help me at all.



 Would you like access to better math explanations?
I'm looking for 20 students who are studying for the August SAT and who might benefit from seeing full math worked solutions and explanations for the problems they missed.
Want weekly test tips and strategies?
Subscribe to get my latest content by email.