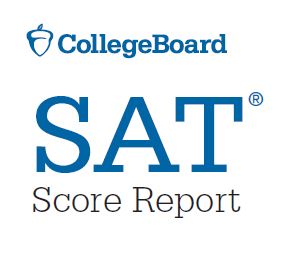 The January SAT score reports came back yesterday. How did you do?
Here's how to read the report. And, more importantly, how to use it to identify areas you can work on to get a higher score.
Compare your Total Score to your Goal Score
Did you hit your target? If so – congratulations! You're done. All you need to do is submit your scores to your selected universities and keep working on the rest of your college applications.
If you didn't hit your target, here's how you can use the Score Report to help guide your next steps
Look at your Section Scores
How close are they to your goal scores? Did you do better in one section versus the other? For me, my math section score is lower than my Reading+Writing score. So that's the section I need to focus on.
Look at your Test scores
These break down the Evidence-Based Reading and Writing Section score into their own Reading and Writing+Language scores. I can see my Writing+Language score is lower than my Reading score – so I need to figure out which grammar questions I'm missing and focus on those.
These test scores are based on 40. I don't have an intuitive feel of how much 32.5 of 40 is. So I convert these scores to percentages. When I tell a kid (or a parent), "Hmm.. the Reading test score is 30", I get blank stares. If instead I say, "You got 75% correct in Reading so I think there might be room for improvement", everybody can understand that number.
Look at your Subscores
Since these are based on 15, I also find it useful to convert these to a percent correct as well.
The first two scores, Command of Evidence and Words in Context, are pulled from questions across both the reading and writing sections. The other two scores, Expression of Ideas and Standard English Conventions, are based on all the questions in the Writing+Language section.
The next three subscores – Heart of Algebra, Problem Solving and Data Analysis, and Passport to Advanced Math – cover most of the questions from the math section.
How do you find more detail?
Unfortunately, the College Board doesn't give you any more detail on exactly which types of questions you are missing. The subscore categories are still too broad.
So what can you do? I've got two recommendations.
Go to Khan Academy and pull up questions in the Subscore category that you want to focus on. You'll quickly figure out which sort of questions you still need to work on.
Here's an example of the types of questions in the Heart of Algebra category.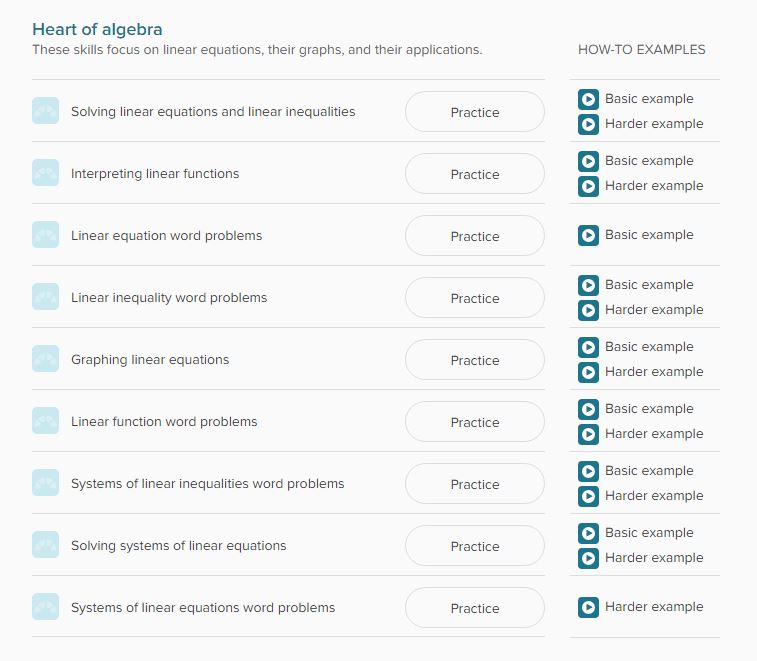 The other recommendation I have is to take a practice test. (Preferably Test 5, 6, or 7 since they were the most recently given SAT tests from last year.) Ideally, you'd take a full-length practice test, but any practice will help.
Figure out which sorts of questions you are missing and learn those topics. (I'm focusing on circles and parabolas.)
If you need more help crafting a strategic study plan, call me!
Want weekly test tips and strategies?
Subscribe to get my latest content by email.