Do you all remember Mr. Snuffleupagus from Sesame Street? He was Big Bird's imaginary friend.
The SAT also believes in imaginary friends – or, in their case, imaginary numbers.
This is from the College Board's Official SAT Practice Test 1, Section 3, Question 2.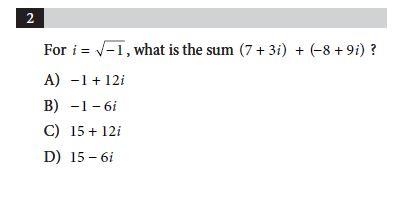 They are freaking everyone out by putting this question at the beginning of the section. Many kids look at that and freak out about trying to take the square root of a negative number. (Which doesn't work. Unless it's imaginary.)
But look at the question (and the answer choices.) They are just treating this as another variable. Combine like terms and solve.
Here's how to do it:
The moral of the story is that sometimes questions aren't as hard as they first appear. Sometimes they are just mild-mannered cuties dressed up in a scary Halloween costume for the night.
Want weekly test tips and strategies?
Subscribe to get my latest content by email.