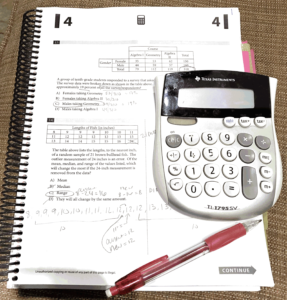 My brain hurts
I thought is was going to be easier to learn the SAT again. 8 years ago, when I picked up the SAT again as an adult, I had to relearn a ton of math. Who knew there was such a thing as a slope inverse formula?
So, yes, I thought it was going to be easier this time. Surely I hadn't forgotten everything I learned over the past six years in just a year away. I'm still sailing through the Reading and Writing and Language sections. But the math is just as painful this time around. I'm clawing my way up from the 70% this time – relearning trig, polynomial factors and systems of inequalities. Ow.
It's a whole new ballgame
It's a brand new test. No more point deductions for wrong answers. A new emphasis on main ideas in reading and grammar in writing. A brand new essay where you look at *how* the author is making her point. And lots of new math (as well as some old favorites – fractional exponents and double-stuffed functions! Hooray!)
Some things stay the same
The test is still overwhelming. The College Board is still obfuscating. Students still need clarity and help to achieve high scores.
I love teaching students and I've missed hanging out with them over this past year. I'm thrilled to start working with them again.
Want weekly test tips and strategies?
Subscribe to get my latest content by email.