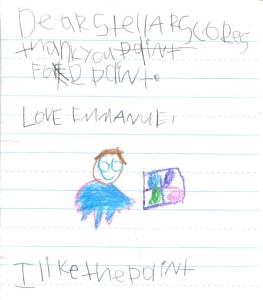 One of the very best benefits of my job (besides being able to spend most of my days with amazing high-school students), is being able to donate a portion of my income back to other school teachers.
I'm a fourth-generation teacher and public school – and the education of *every* child – is very dear to my heart. Every month, my first grader and I visit Donors Choose to pick a project to help other kids. This month we bought paints and books to help students read.
My little girl is struggling with writing. As we read the thank you notes – with delightful first-grade mistakes – we talked about how much the love came through, regardless of whether the writing was perfect or not.
And she said, "Mommy, I'm just going to let the love come through and not worry about the wrong parts."
#meltedheart
Thanks to you all and Donors Choose we all are helping kids tackle learning challenges – whether that's learning to read or getting a better SAT score.
Want weekly test tips and strategies?
Subscribe to get my latest content by email.