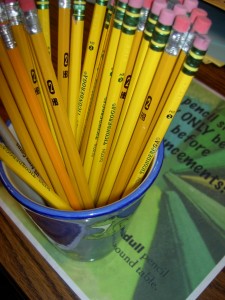 [Note: this post refers to the old SAT. Here's the link to the College Board's 6 Official SAT Practice tests for the new SAT.]
Now that the school year is over, many students are ready to tackle the SAT test prep over the summer. And they are looking for more sources for SAT practice test questions.
(BTW – I highly recommend that you use The Official SAT Study Guide, 2nd edition (or DVD edition.) It's got 10 (11 in the DVD edition) full SAT tests.)
Free official SAT practice tests
But for those of you looking for free resources, here are previous official practice tests:
I recommend that you print them out and take them by hand – just as you will for the real SAT.
How to use them
Don't squander these tests – be frugal.
You'll want to spend as much time going over your mistakes with a fine tooth comb as you did when taking the test. You want to understand what you missed, why you missed it, and fix the problem before you take another test.
Just churning through test after test won't fix your score. Yes, full tests are important – very important. But the magic happens off the field – in the weight room, practicing drills, figuring out your weak spots and working on them over and over until they are no longer weak spots (ahem – fractional exponents anyone?)
Here's a free report to help you track down and beat the stuffing out of those mistakes.  You can enter your answers to see exactly what kinds of questions you are missing and create a customized list of strategies on exactly what you need to do in order to increase your score.)
(There are actually two free reports – one for the 2014-2015 Official SAT Practice Test and one for the 2014 Official PSAT Practice Test.)
Your highlight reel starts in the gym
Want weekly test tips and strategies?
Subscribe to get my latest content by email.