[Note: This post refers to the old SAT. Here's the link to 8 free practice tests of the new SAT from the College Board.]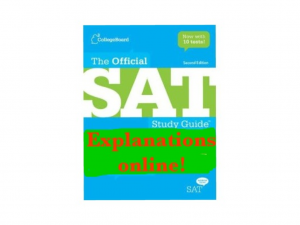 Hands down, the absolute best SAT prep book to help you get the perfect score is The Official SAT Study Guide, 2nd edition. (or the DVD edition )
This book has 10 full practice tests written by the College Board. (11 in the DVD version.)
This is the only authentic source of SAT tests (along with several free practice tests and their online course.) Every one else has to write their own approximations of SAT questions – and they are usually bad.
So stay with the real deal.
The best SAT prep book gets even better
And, what they don't tell you (well – they do tell you in the middle of page 11, but apparently no one reads introductions anymore) is that they have published full explanations of every single question and and every single answer in the book.
Here's the link: http://www.collegeboard.com/satstudyguide. You'll need to sign into the site and enter a word from one of the pages in the book so they can make sure you've actually purchased the book.
This information is invaluable, especially if you are studying on your own. (Or if you have a question at 11 pm and your tutor has already gone to bed.)
The math explanations are usually useful – and occasionally esoteric. And the writing explanations can be a little grammar-heavy for most students.
Critical reading explanations are worth their weight in gold
But the explanations for the Critical Reading is where they really shine. It's helpful to read why the right answer is right. But it's insanely useful to read why the answer you chose is wrong – exactly how and why it's almost-but-not-quite-right. So you're able to use that information to adjust your aim and get it right the next time.
For those of you studying on your own, this is the closest thing to having a tutor leaning over your shoulder, coaching you on how to improve.
Want weekly test tips and strategies?
Subscribe to get my latest content by email.