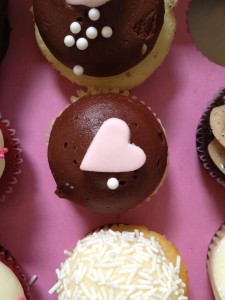 One of my beautiful students, M., has done an amazing job pulling up her reading score in practice tests. (Here's how she achieved 100+ point increases in math and writing overnight.)
She started out with a 460 on the March SAT. That's the 37th percentile. She's been steadily pulling up that score over the past couple of weeks. Today she jumped up to a 550 – the 66th percentile.
When I asked her what made the difference, she mentioned love and cupcakes. 🙂
Love
We talked about how being excited about the passage can help you remember more of what you read. And yes, all my students roll their eyes when I tell them this. And then they go and score significantly higher on the next test. It works! M. says,
I don't love Critical Reading, but I am now loving the passages.
And cupcakes
We also talked about how she needs to go back to the reading passage and figure out the answer before she looks at the answer choices.
I shared the story of my little girl and the new cupcake shop in our neighborhood.  Every time we go in, she has to look at and decide between every single cupcake. Hmm.. Berry Berry Blast? Chocolate Fudge with Himalayan Salt? Lemon Drops? Strawberry Lemonade with Crystals? They have about 40 different flavors. Which might as well be 1,000,000 to a six-year-old.
I have lost hours of my life waiting for my daughter to make up her mind. So I implemented a new rule. Before we step foot into the shop, she has to declare what kind of cupcake she wants – chocolate? Lemon? Pink? (which I realize is not a flavor, but it is to her):-)
So now she just has to choose between a couple cupcakes, instead of the entire inventory.
In the exact same way, you need to read the question and go to the passage and find the answer. Then (and only then) look at the answer choices to see which choice matches your answer.
It makes it much easier to sort through the answer choices – if you know you are looking for a chocolate cupcake, you can ignore the lemon and strawberry ones.
M.'s take on it:
The questions were a lot easier this time around
(They really weren't.) She used a couple of powerful tactics which made the test *seem* a whole lot easier.
And her jumps in scores across the board on the practice tests? I have a feeling that we are all going to cupcake shop for a celebration when the June scores come in.
Want weekly test tips and strategies?
Subscribe to get my latest content by email.