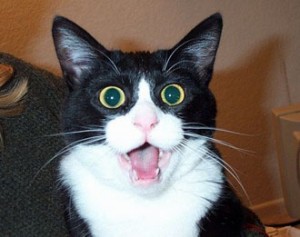 When my daughter was little, we were looking at You Tube videos of kittens. I wondered aloud about one of the videos. And she said "Yes, Mama. What the f***?"
Not my brightest parenting moment (if still hysterical).  But it's also the same response that many of my students have to the writing section on the SAT.
Last week I was working with a British math whiz who was getting knocked around by the SAT writing section.
His complaint is that the math is easy – he can solve it out, or make educated guesses when he doesn't know. But for writing, he says, it's all murky and he doesn't know when he's right or wrong.
He's got a point.
We inherited our sometimes-archaic grammar from our friends from across the pond. (They still commonly use "whilst" which just cracks me up.)
Whilst I wish schools still taught grammar, including diagramming sentences, I realize that most students haven't learned the nuts and bolts of grammar.
The best way to improve your grammar is to work your way through Erica Meltzer's Ultimate Guide to SAT Grammar or the Complete Guide to ACT English. In the meantime, here's a punch list of grammar tips and shortcuts to help you cut through the jungle.
Lean in toward shorter answers
English, true to it's Latin roots, is incredibly compact. You just don't need a ton of words to make your point: "The boy ran."
The SAT and ACT can stuff a lot of junk into longer answers.
If you can get it down to two choices, have a preference for the shorter answer.
Lean away from -ing
There's nothing grammatically wrong with -ing words.
"My dog is snoring under my desk whilst I am writing this blog post."
But the SAT, in particular, is -ing happy. They -ing everything.
Case in point: "All species of sea turtles are endangered because of overharvesting of adults"
That's not how we would say it. If you were talking to your buddies, you'd say "Hey – sea turtles are endangered because the adults are overharvested."
So choose away from -ing words.
"Being" is ALWAYS wrong.
It's been the right answer exactly twice in the past 25 tests.
So, I'm sticking with my rule – always avoid "being."
Most common errors
The most-tested topics are: verb tense issues, subject-verb agreement errors, comma splices (otherwise known as testing complete sentences), and pronoun issues.
(Need grammar practice? Erica Meltzer's Ultimate Guide to SAT Grammar or the Complete Guide to ACT English is the perfect solution.)
Passive voice is always wrong
In life, passive voice can be used very effectively.
Especially when the subject wants to avoid taking responsibility for the action.
"The vase of flowers was knocked over by the ball, Mama."
The subject – the vase – had the action happen to it.
To turn it active, make the doer of the action the subject of the sentence: "The ball knocked over the vase of flowers."
(Of course, for true accountability, the munchkin would say "Mama, I threw the ball which knocked over the vase of flowers.")
On the SAT, passive voice is always wrong. (They use it to stuff a bunch of junk into the sentences, making them wrong.)
Read out loud
Your ears are usually more reliable than your eyes.
So read the sentence quietly under your breath to see if your ears hear anything funny. If your tongue trips over any part of the sentence, that's a good place to take a second look at the grammar.
Add a "because"
If the logic of the sentence is messed up, it's usually because it's missing a "because."
Want weekly test tips and strategies?
Subscribe to get my latest content by email.