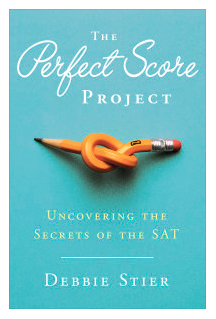 Debbie Stier is a mom who wanted to help her unmotivated teenage son do well on his SATs. She decides to learn all she can about the SATs.
Here's an excerpt about the The Perfect Score Project: Uncovering the Secrets of the SAT on Amazon:
Debbie's quest turned out to be an exercise in both hilarity and heartbreak as she took the SAT seven times in one year and in-between "went to school" on standardized testing.

Along the way she answers the questions that plague every test-prep rookie, including: "When do I start?"…"Do the brand-name test prep services really deliver?"…"Which should I go with: a tutor, an SAT class, or self study?"…"Does test location really matter?" … "How do I find the right tutor?"…"How do SAT scores affect merit aid?"… and "What's the one thing I need to know?"
It is a delightful book and it's useful!
Here are more reviews from Bookpage and Goodreads.
Want weekly test tips and strategies?
Subscribe to get my latest content by email.