In honor of all the candy mixtures being prepped for Halloween parties, here is a SAT candy problem.
Mixture problems
These don't show up very often on the SAT – which is a good thing since my students really struggle with them.
This is similar to a hard question in Test 10 of the Blue Book.
In a mixture of candy corn and chocolate kisses, the ratio by weight of candy corn to chocolate kisses is 5 to 2. How many pounds of chocolate kisses will there be in 4 pounds of this mixture?
Here's an easy way to set up the problem that works every time.
Create a chart
The secret is to create the total of the ratio and compare it to the total pounds of the mixture.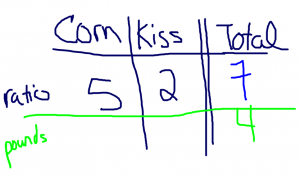 What value do we want to find? Ahh.. how many pounds of chocolate kisses. So put an x in that column.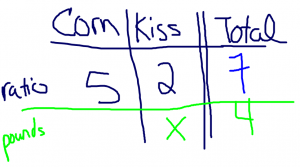 Bingo…we have an equation
Now doesn't this look suspiciously like a problem we can easily solve?
So set each side equal to each other and solve with cross multiplication.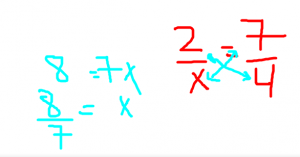 So x = 8/7. Quickly check your map to make sure we solved for the right thing…yep.  There's the answer
Try this one
Test 1, Section 7, Question 13, page 417 in the Blue Book.
Leave your solution in the comments below.
Image source: Halloween Candy by aus_chick, on Flickr
Want weekly test tips and strategies?
Subscribe to get my latest content by email.