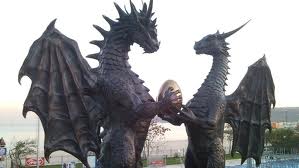 The most consistent problem my students struggle with is grammar. Apparently it is a mythical beast that isn't showing up in school curriculums anymore.
I've been searching around to find appropriate material to fill in the gap. Erica Meltzer's The Ultimate Guide to SAT Grammar is terrific and highly recommended. But I was also looking for free resources that could painlessly deliver lessons to teenagers.
And I think I've found it. Grammar Bytes  – with a tagline of "Grammar instruction with attitude" – has a plethora of free worksheets and handouts on all things grammar. Here are some of my favorites:
*You don't need to know the technical terms like subordinate clauses and infinitive phrases. But you do need to be able to recognize a sentence that isn't complete and how to fix it.
I wish Matt Inman over at The Oatmeal would write a grammar book. His poster on How to use semicolons is priceless.
Want weekly test tips and strategies?
Subscribe to get my latest content by email.