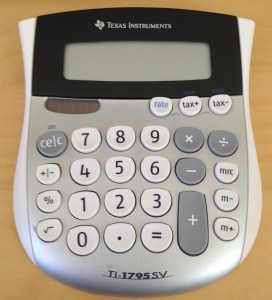 My calculator always makes my students laugh. It doesn't even have an exponent button.
And yet it has gotten me though each of the 40 or so SAT tests I've taken over the past 5 years.
Thinking wins over pushing buttons. Every time.
The calculating part of the math section is usually pretty straightforward. You really don't need fancy buttons to solve any problem on the SAT. You do, however, need to use your brain.
Think your way through the math problems – or estimate or guess or use a ruler. And then use the calculator to figure out harder* calculations (like .70 x 133).
*Note: Harder calculations aren't the normal times table (7 x 8) If you're shooting for anything higher than the 500s, you need to have your times table memorized.
Want weekly test tips and strategies?
Subscribe to get my latest content by email.