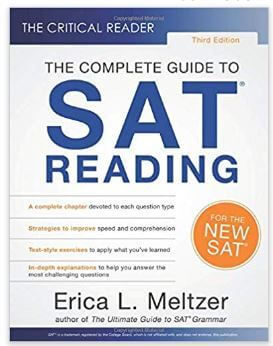 Want to ace the Critical Reading section? The Complete Guide to SAT Reading by Erica Meltzer will show you exactly how to do it.
I *only* use the Official SAT Study Guide as a source for authentic SAT questions. However, I make two exceptions to this rule. And this is one of them.
Erica has exhaustively researched and categorized every type of Critical Reading question the SAT has published. And then written step-by-step approaches on how to recognize, analyze and correctly answer  each type of question. This is the first book that I've seen that teaches both the *what* and the *how.*
Most high schools are no longer teaching classic reading analysis – What does the text say? Why does that author say it in that way? What implications can you draw from that?
Apparently high schools are teaching something like, "In your opinion, what do you think this text means?" where every answer is right and every student gets a gold star for participation.
90% of my students have no idea how to do a structured analysis of the written text – not their opinion of the text, but of the text itself – and this book shows you step by step how to do exactly that.
It's not for the faint of heart – but if you want a top Critical Reading score, The Complete Guide to SAT Reading will teach you exactly how to achieve it.
Want weekly test tips and strategies?
Subscribe to get my latest content by email.