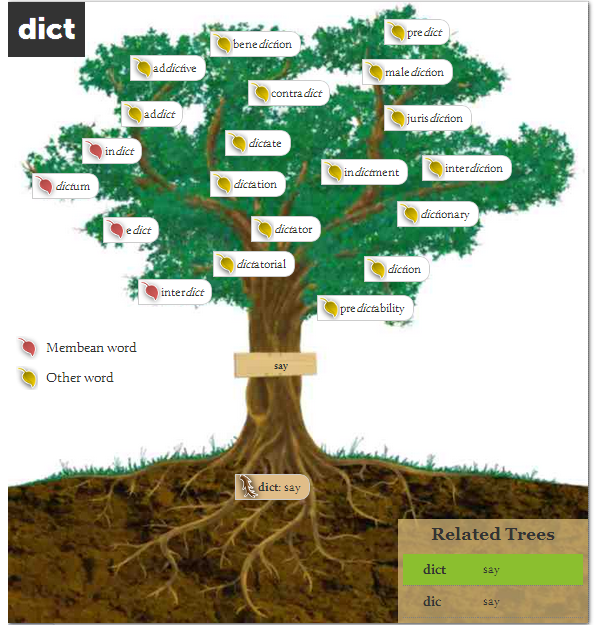 Vocabulary is often a weak spot for many of my students. There's no quick and easy fix – vocabularies take time and practice to develop. And, in my opinion, becoming a rabid reader is the best way to do so. Read, read, read!
But, in the short term, how can you increase your vocabulary? Membean is a great online program that provides a variety of multimodal practice.
Mighty oaks from little acorns grow
One of my favorites is the root tree – so you can quickly see how one root creates a variety of words.
So by knowing that "dict" means say, you can probably figure out these words:
predict – "pre" means before – to declare or tell in advance

benediction – "bene" means good – utterance of good wishes; a blessing

contradict – "con" means against –  to speak against
malediction – "mal" means bad – to speak badly of; a curse

dictum – an authoritative pronouncement; judicial assertion

indict – to charge a person with a crime, especially formally in writing; accuse
More resources
The Direct Hits books also focus on root words.
I've created root sheets for my students as well. Here are chron and circum.
Want weekly test tips and strategies?
Subscribe to get my latest content by email.