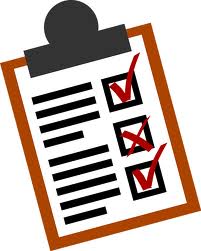 Here is the College Board's Test Day Checklist.
Masters of the obvious, they tell you to bring:
Admission ticket (print it out today!)

Two  #2 pencils

Photo ID

Calculator
I'd add in:
Sleep!
(though I realize this is not something you can bring to the test)
A bunch of pencils.
Many classrooms don't even have pencils sharpeners anymore. And I blow though my first pencil on the essay. I bring 10 (and usually hand them out to hapless students around me who only brought one.)
Wear layers
They will either try to bake your or freeze you. Thwart their evil plans!
Bring food and water
Real food. (Not Skittles and Red Bull – the sugar crash will kill you.) Your brain needs energy (it's doing the equivalent of running a marathon) so give it something healthy.
Good luck on Saturday!
Want weekly test tips and strategies?
Subscribe to get my latest content by email.