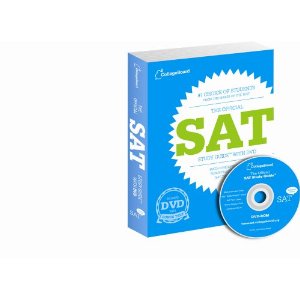 [NOTE: This refers to the pre-2016 version of the SAT.]
The College Board has recently published a new edition of the The Official SAT Study Guide with DVD
. It is EXACTLY the same as the 2nd edition
, except for an additional test available on the CD (and 15 min of other material on the CD, most of which is available free on their website.)
I'm not a fan of the CD, but I do think having an extra test for an additional $5 is useful.
Additional (free!) tests
If you need more tests, here are official SAT practice tests from prior years:
Online answers
I wish they would blatently advertise that they have online solutions to every single problem in the book.  (It's a well-kept secret.) The explanations to the writing sections are almost unusable (being both verbose and arcane), but the math and reading explanations are useful.
What I find most helpful in the reading explanations is not only why the right answer is correct, but an explanation why every other answer choice isn't correct. That is incredible helpful for students as they learn how to find the right answers.
Want weekly test tips and strategies?
Subscribe to get my latest content by email.