Ocassionally, some of my students get confused as to which way the inequality sign is supposed to go.
One way to remember it is to think of an alligator mouth.
Alligators are always hungry, so they will want to eat the larger amount.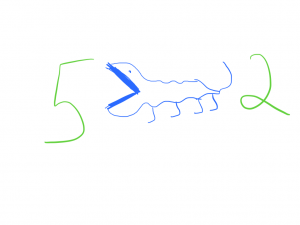 5 is greater than 2.
15>-8. 15 is greater than -8.
x<22. X is less than 22.
Image credit (for the actual alligator): Pandiyan on Flickr
Want weekly test tips and strategies?
Subscribe to get my latest content by email.