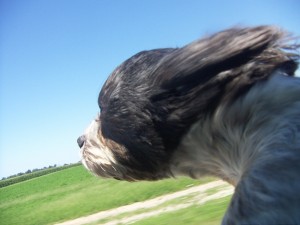 [NOTE: this applies to the pre-2016 version of the SAT]
You have already used up 2-3 minutes of your time SAT essay by choosing a side and outlining your essay. Now you need to write like the wind!
You must have at least four paragraphs in your essay:
Introduction
1st body paragraph
2nd body paragraph
Conclusion
Introduction
Don't get hung up on your introduction.  If you have to, just make it 2-3 sentence long. You are trying to get to your thesis and main body paragraphs as quickly as possible.
I recommend that you end this paragraph with your thesis statement. (Just like the ol' inverted pyramid technique they taught you in middle school.)
Body paragraphs
Tie your topic sentences back to your thesis. Remember to stay focused on how this example illustrates your thesis.  Do not veer off track and include extraneous detail.
You don't need to include plot summaries. Assume your audience knows what you are referring to.  If you absolutely have to provide a context, make it short.
"In The Wire, a show about the drug scene in Baltimore, Joe is a cop who struggles to do the right thing when faced with arresting an innocent kid framed by the local drug dealer."
Conclusion
Here's where you wrap up your argument. If you are running short on time, just write the bare minimum.
Your homework
Re-read pages 135 to 120 (yes, read them in backwards order) in the Blue Book
to see examples of 9 different essays (and there are 9 more examples on pages 212-197.)
Look at the structure of arguments.
Where are the thesis statements?
How do body paragraphs begin?
What information is in the conclusion?
Are we there yet?
Nope. Not quite yet.  This part should take you no more than 20 minutes.  Why? Because you still need 1-2 minutes to make quick revisions.
Related Posts
SAT Essay: Brainstorm Examples Now
Image credit: brija
Want weekly test tips and strategies?
Subscribe to get my latest content by email.