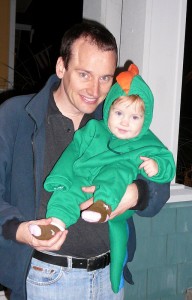 Happy Halloween!  Since you are going to see many monsters today, I thought I'd talk about how to distinguish the cute wannabes from the truly scary ones.
We've already talked about vampire bunnies – tough, tricky problems that masquerade as mild-mannered bunnies.
Let's look at the other case – scary-looking dragons that aren't so intimidating up close.
Here be dragons…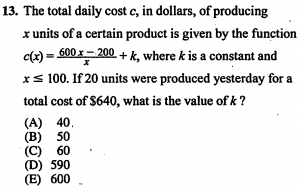 This question is from the Blue Book. Function problems are all over the SAT. In fact, they are the second most common type of problem (right behind basic algebra questions.) They show up about 8% of the time.
Often these functions-as-models questions send my students fleeing at first sight. It certainly looks intimidating
…or not?
But, as you know by now, looks can be deceiving.
This is just an basic algebra substitution problem dressed up in a dragon outfit for the night.
Once my students figure out they need to substitute 20 in for x and 640 in for c(x), they than can quickly solve for k.
Of course, it still might bite
Since this is a medium problem, you still need to be paying attention.  There are two traps in here to catch the unwary.
So, bunny or dragon?
How do you tell the difference between the two?
Vampire bunnies tend to hang out at the end of the section and look disingenuously easy. Scary dragons tend to hang out in the middle of the section and feign scariness.
In any case, it behooves you to make friends with this type of function problem. Just like the trick-or-treaters, it will keep knocking at your door. Might as well learn how to feed it now.
Want weekly test tips and strategies?
Subscribe to get my latest content by email.