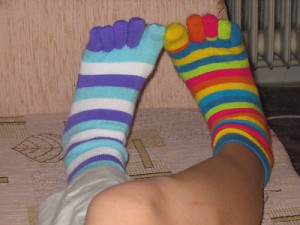 My toddler rarely wears matching socks. No big deal, right? I figure as long as she is wearing clothing, I'm ahead of the game. I am, however, amazed at the number of people that criticize her lack of consistency.
And if the SAT saw her feet, it would censure her as well. Because, apparently, it is as stodgy as everyone else and wouldn't dream of wearing creatively mismatched footwear.
Don't fall for the wrong sock
One of the most common errors I see are when students mismatch the difficulty level of the question and the answer.
Easy questions have easy answers.  Medium and hard questions, however, do not have easy answers!  (Where are the easy, medium, and hard questions located?)
Here's a case in point.  This is question 15 in a section of 20 questions in the Blue Book.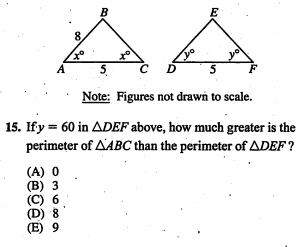 Tons of my students pick A as the right answer because the figures look the same. But zero is w-a-a-a-y too easy an answer for a problem this late in the section.  (The other tip off in this problem is the 'Note: Figures not drawn to scale.' )  Some students pick D "because there was an 8 in the problem."
0 and 8 are the mismatched socks – those answers are the easy, lazy, non-thinking choices.  But this is a medium problem and it will never have an easy answer as the right answer.
Here's how to match your socks correctly
Image source: CSG Kids Socks
Want weekly test tips and strategies?
Subscribe to get my latest content by email.