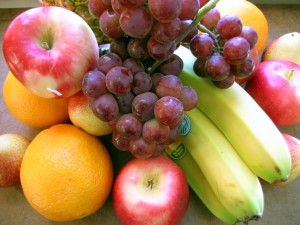 Eating your daily requirement of fruits and veggies provides lasting health benefits. In the same way, practicing SAT questions daily can improve your brain (or at least the part of it that solves SAT problems!)
Sign up for the College Board's SAT Question of the Day.  Every morning you'll get a reading, writing or math question delivered right to your inbox (or RSS feed). You can choose your answer right in the email.  It will then take you to the Question of the Day page – if you answered incorrectly, you can ask for hint or see the full correct answer and explanation.You can also compare your answer to the thousands of other students answering the same question and keep track of your scores.
And, most importantly, [why did I use "most" instead of "more"?] you'll be  practicing the exact same skills you'll be using for the test. You can get even more value out of the daily question if you assiduously figure out why you got it wrong and learn how to solve it correctly.  Not bad for 5 or so minutes of work every day.
Want weekly test tips and strategies?
Subscribe to get my latest content by email.