I've purchased all the SAT books on the market.  And then I've proceeded to toss most of them out.  Here are the best of the best – and the only ones I use with my students.
One book to rule them all
The College Board has published 4 SAT tests in The Official SAT Study Guide, 2016 edition.
Free Official Practice Tests
It gets even better. You can also download (for free) those same 4 tests – plus 3 more – directly from their website. (They also have scoring sheets and full answer explanations for all the questions.)
The College Board has also partnered with the Khan Academy and offers even more practice questions and video lessons to help you master the concepts that are test.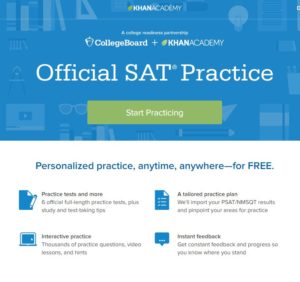 Math
If you are a student in the 500-600s (or want to get there), buy Phil's brilliant book,The New Math SAT Game Plan: For 2016 and Beyond! It contains just the right amount of information.

If you are in the 650-750s (or want to get there), check out Mike McClenathan's PWN the SAT: Math Guide book. He's hysterical, inappropriate, and memorable.  And it is HARD.  He's scored an 800 in math and if you want to do the same, master this book.  He overtrains you so the SAT seems like a cakewalk in comparison.

Reading
Erica Meltzer, who has a terrific SAT blog at The Critical Reader,  has published her outstanding book for SAT Reading, The Critical Reader, 2nd edition. It systematically walks you through every type of question and teaches you exactly how to analyze the text. It is an amazing resource! Recommended for students in the 600s who want to get into the high 700s.
Writing and Language
The Ultimate Guide to SAT Grammar, 3rd edition is the book you need.  Erica Meltzer painstakingly breaks down each skill that is tested and teaches you the most important content first.  Her examples and exercises are the only ones I've found that are indistinguishable from the real thing.
She's also created 8 more writing tests for you to practice what you've learned.

For Parents
Need some moral support from a parent who is going through the same thing? Debbie Stier's The Perfect Score Project: Uncovering the Secrets of the SAT
is insightful, mesmerizing and incredibly useful.

Disclaimer: I may receive a small commission from the sale of some of the products on this page.