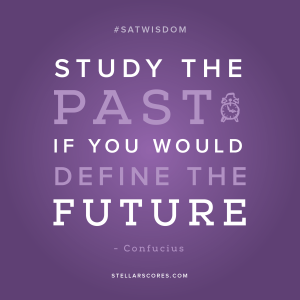 [Note: this post refers to the old SAT. On the new SAT you don't lose points for wrong answers. The larger idea of crafting a strategy that maximizes your points still applies (often, you'll get a HIGHER score if you focus on FEWER questions and get more of them correct, rather than rushing through and attempting all the questions.]
Excellent SAT scores are the result of three things: knowledge, strategy, and execution.
M. got a 480 in Math on her March SAT. That's scoring in the 38th percentile – well below her expected target for a straight-A student.
With a little digging, I found out that she was told in an SAT class not to guess. So she only answered the questions she was 100% sure about. Because "you lose points for guessing on the SAT."
Bad strategies cost you points
That is technically true – you do lose points for guessing. But you only lose 1/4 of a point for a wrong answer.
So it's completely in your best interest to take educated guesses. If you can mathematically eliminate at least three answers (as opposed to tossing out an answer because you don't like the look of it), then you should guess. Always.
Good strategies maximize your knowledge
By getting her head back on straight and getting aggressive, M. found her self-confidence again. She was able to leverage what she knows into a lot more correct answers.
(Notice we didn't work on memorizing formulas or learning new math topics.)
Overnight, she jumped up to a 590 – the 72nd percentile. And within striking distance of her target score of 600.
That's the advantage of a good strategy – it maximizes the knowledge that you do have to earn the highest possible score.
Now we have to wait until the June test to see how it all plays out on a full proctored test.
But that dream school that wants 600s is looking possible now.
Update
This week she did something even more amazing. She got a 390 on her Writing section on the March SAT – that's the 18% percentile. Applying her newfound strategy, she got a 560 – the 72nd percentile. A gain of 170 points!
And here's my favorite part. Her mom was telling her she should have answered all the questions. M. fired back with a full explanation of her strategy, why she was skipping the hard questions, and exactly how that would help her earn a higher score.
Wow – this is a different kid. Initially she was reluctant to meet with me – she was mortified about her scores and was unsure about the whole online tutoring thing. During our first session she had stiff body language and was monosyllabic.
Now, she's lit up like a firecracker. She's confident, assertive and determined. And isn't that the whole point of all this? To create confident kids who are clear on their strengths and weaknesses and excited about the challenges ahead?
To misquote the now-disgraced Lance Armstrong , "It's not about the bike SAT score."
Want weekly test tips and strategies?
Subscribe to get my latest content by email.