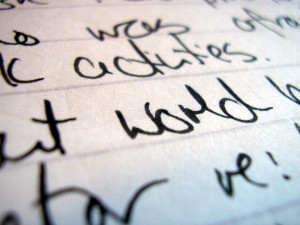 [NOTE: this applies to the pre-2016 version of the SAT]
It is hard to write an SAT essay in only 25 minutes. You barely have enough time to write it, much less come up with two examples to prove your thesis right on the spot.
Luckily, the College Board isn't looking for a perfect essay. On page 105 in the The Official SAT Study Guide, 2nd edition
, they tell you exactly what they are looking for:
Effectively and insightfully develops a point of view
Is well organized and clearly focused
Exhibits a skillful use of language
Demonstrates meaningful variety in sentence structure
Is free of most errors
So what does that mean? For starters, your essay MUST include an introduction, at least two specific examples that directly support your thesis, and a conclusion.
Know thy foe
Read through the example essays in the book – start with the "1" essay on page 135 and read backwards to the "6" essay on page 120. Read the example and the explanation for the score. This will show you exactly how the College Board applies their criteria.
Here's what you can do to make it easier on yourself on test day.
Brainstorm your SAT essay examples right now
The essay questions cover big themes:
Can success be disastrous?
Can knowledge be a burden rather than a benefit?
Is it important to question the ideas and decisions of people in authority?
Generally, the themes focus on conflict, freedom, responsibility, knowledge, and the needs or rights of individuals vs. groups. Luckily these themes are broad enough that you can use practically anything as an example to illustrate your point.
I recommend that my students pick 3- 5 examples from different genres that they could use for any particular essay. Think of the main characters, main themes, and specific examples that illustrate those themes. You don't have to use "the classics."
Remember, use what you know and love. (If sports isn't your thing, then don't use a sports example.)
Here are some recent examples my students have used:
Books
Katniss in The Hunger Games (individual vs group, freedom, responsibility, courage, growing up)
Hermione  in Harry Potter (courage, growing up, doing the right thing, individual, sacrifice)
Movies
Harry Potter (responsibility, change, knowledge, failure)
Winnie the Pooh (importance of friendship, courage, trying again, being nice, reaching for goals)
Current Events/Politics/World History
Occupy Wall Street movement (freedom, fairness, individual vs. group)
Hutu/Tutsi conflict in Rwanda (freedom, responsibility, power, individual vs. government)
Hungary's response to WWII (responsibility, politics, freedom)
Sports
Tiger Woods (responsibility, fame, money, family)
LeBron James leaving the Cleveland Cavaliers (fame, money, individual vs. group)
TV Shows
Desperate Housewives (conflict, loyalty, doing the right thing, trust)
The Wire (doing the right thing, knowledge, responsibility)
Personal Examples
Sitting out the whole soccer season due to an injury (leadership, individual, courage, growing up)
Crashing the family car (growing up, freedom)
Losing my best friend (doing the right thing, growing up, courage)
Now that you have a variety of examples in your back pocket, how do you translate that into 25 minute essay?
Related Posts
SAT Essay: Write Like the Wind
Image source: 

mag3737

 on Flickr
Want weekly test tips and strategies?
Subscribe to get my latest content by email.